Editor: Cruit Island - Farmhouse Crag

What would you like to do today?

<
Crag Profile: Cruit Island - Farmhouse Crag
Details of the crag can be reviewed below. Editing links are present on all routes and inter-route notes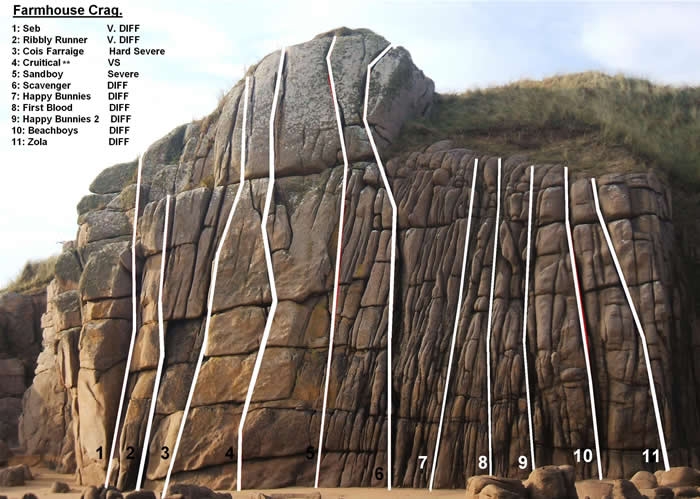 Farmhouse Crag, Cruit - Farmhouse Crag Topo provided by Iain Miller
Directions: Four Hundred yards past the entrance to the thatched cottages, behind and below a 2 storey farmhouse, there is a buttress at the Northern end of a small beach. Climbs are described left to right.
OS Grid Reference: B732217
Click here to view location in Google Maps
- Day Pass
VS -
Length: 10m
'Drew Smiley, Nial Browne Climbfest 2010
- Weekend Pass
HVS -
Length: 10m
'Drew Smiley, Nial Brown, Climbfest 2010
1 - Momentary lapse of Reason
S 4a
Length: 12m
I. Miller, C. Gleeson 16/08/09
2 - Easy Pieces
E1 5b
Length: 12m
Michael Hassan, Alfie Donnelly 1/5/2010
Just to the right of the obvious open book corner is a leftward trending crack line that runs all the way to the top. This route take that line. Good nut placement at about half height that is a little tricky to place. Couple of difficult moves then follow. Top a bit crumbly on first ascent.
View Route
Edit Route
Upload a new photo for this route
3 - all chalk and no action
HVS 5a
Length: 12m
H.Hennessy K.McGee 2/5/2010
4 - headrush
HVS 5a
Length: 12m
H.hennessy 1/5/2010
5 - Seb
VD
Length: 13m
E Hackett,V Kelly 03/08/85
6 - Ribbly Runner
VD
Length: 13m
R Higgins,D Walsh (5/8/85)
7 - Cois Farraige
HS
Length: 14m
V Kelly,E Hackett 03/08/85)
8 - Cruitical
VS
Length: 14m
D Doyle & G Moss 03/08/85
9 - Sandboy
S
Length: 13m
G Moss,D Doyle (3/8/85)
10 - Scavenger
D
Length: 13m
P Conroy,M Lynch (5/8/85)
11 - Happy Bunnies
D -
Length: 13m
I. Miller, M. Boner 01/01/09
12 - First Blood
D -
Length: 13m
M. Boner, I. Miller 01/01/09
113 - Happy Bunnies 2
D -
Length: 13m
I. Miller, M. Boner 01/01/09
14 - Beachboys
D
Length: 13m
R Cole, O Creegan (5/8/85)
15 - Zola
D
Length: 12m
EHackett, VKelly(3/8/85)
16 - Rising Damp
HS 4b
Length: 12m
I. Miller, C. Gleeson 16/09/09
17 - Grunt N Roar
HVS 5a
Length: 10m
I. Miller, C. Gleeson 16/08/09
17a - Out of Limbo
S -
Length: 10m
G. O'Sulliven, S. McErlean 4/5/2013