Peapod * * *
Location: Culdaff - Dunmore Head
Grade: VS 4b
Length: 18m
First ascent: B McDermott, J Rotherham
Route Description:
This route takes the obvious chute 3m right of the alcove, moving out left and climbing the left of the upper cracks. Low in the grade.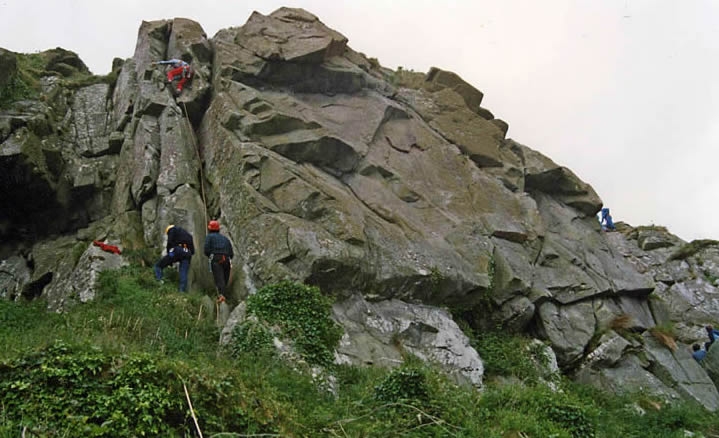 Comments
Pete - 09/05/2011
I climbed this route on my first day's climbing in Ireland. My impression was that Grecian Gifty is top-end VS and this is bottom-end VS. I never thought it was a HS despite climbing it another dozen times subsequently.
Peter Cooper - 08/05/2011
Noting Rodders comment, I'm surprised to see this route not clattered in comments; just goes to show. I think it is a really good route and happy to see the three stars stay with this one. Grade-wise....hmmm. Absent Friends 5 gets HS, I was happy to solo that many times over; Peabob I led, and enjoyed, many times and backed off soloing it twice - as did some other climbing friends. It has exposure and there must be something technical to the move. Just to make clear I'm not advocating we solo it or others but I'm happy to see comments on the above. Good comment Rodders.
Rodders - 07/05/2011
I think HS 4b is a more realistic grade for this route. It's considerably easier than the other VS's, particularly Grecians Gift and Colamity Colins, and not really any harder or more serious than the HS's. 1 or 2 stars for me rather than 3 and a very nice climb.