Shiny Cossacks * * *
Location: Culdaff - Dunmore Head
Grade: HVS 5a
Length: 22m
First ascent: P Neary, I. Ryan
Route Description:
Start: 4m right of Bean Bob, under a slab, 1 m to the left of an overhanging V groove. Make an awkward move to gain slab. Climb diagonally leftwards to knob and then rightwards to brown patch beneath overhang. Exit to the right of the overhang and continue as for Diversion.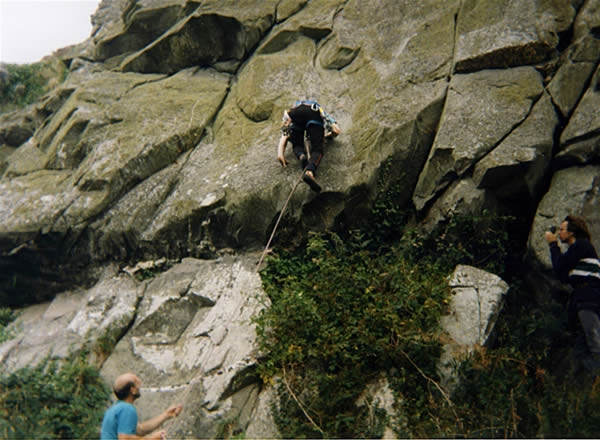 Shiny Cossacks - Unknown climber eases over the lip on Shiny Cossacks at Dunmore Head, Culdaff

Comments
Peter Cooper - 13/05/2011
I'm with Pete on this one: 4 stars it is! Only pulling your leg. Comments and banter is very good, esp if it gets us to a consensus on the lines. This is a very good wee crag, can confess to enjoying myself here on many occassions; and even got some climbing done.
Kevin - 11/05/2011
Iain, COnvenience cragging is all well and good, but my statement was more of a biased opinion on Culdaff- I love the place and I've spent a lot of time there growing up as a wane. These days its amazing to come home for a weekend, get on some great rock and see the folks all in the same day. So yeah, Shiny Cossacks, one or two stars but not three. Looking forward to some exploring further a field this weekend.
Pete - 11/05/2011
Seeing as this is one of the few HVS routes that I managed to lead, I think it is definitely of national importance. In fact, how about 4 stars signifying global importance?
jock - 10/05/2011
Inclined to agree with Niall. It is a great climb but I'm not sure if it is worth 3 stars, do 3 stars equate to a route of national significance? There are many other 3 star routes about Donegal that are way more memorable outings
IM - 09/05/2011
Kevin/Niall, Is it a question of convenience & what is a "3 star route?" "muckross, Sail Rock, Lough Belshade" & "its only half an hour down the road from home!" This fair county has more "3 * routes" than the rest of Ireland X100, it is perhaps a case that they are not convenient? I am just wondering as the MI Burren guide has no mention of The cliffs of Moher and Braunaumore routes? Iain
Kevin Kilroy - 09/05/2011
You certainly can when its only half an hour down the road from home! : ) As good as most gritstone crags anyway.
niall grimes - 09/05/2011
can you have a 3 star route at culdaff? It's a great crag but the donegal guide also covers muckross, Sail Rock, Lough Belshade etc.
Peter Cooper - 02/05/2011
An HVS climber now, steady on Marty! Talented climber doubtless and my congratulations too, well earned. Alan Tees' turn next, now he's come of age! However, I only ever referred to myself as being a VS climber; as this was the grade I wasn't stopped by - could climb most VS I ever went near. Have on-sight solo'd at E2, on-sight led slate at E4.....but it was in the same month I failed an Almsciffe VS! Keep going Marty, I'll be looking for somebody to drag me up some nice climbs, after final op.
Kevin Kilroy - 30/04/2011
George Carelton cleaned the fuzz off the key holds recently. Cheers! Very climbable in its current condition, excellent route. Maybe not three stars but one or two at least. Grade is spot on.
Pete - 09/06/2009
We all knew you were an HVS climber Marty. Only you doubted it.
Martin Mc Guigan - 08/06/2009
After 20 years of looking at this climb and only leading it on May 09 I can now say I can climb HVS.Was worth waiting for!!