Broadbinn's Emporium *
Location: Culdaff - Dunowen (Brazil Rock)
Grade: HS 4a
Length: 18m
First ascent: Alan Tees, Paul Robinson 8/08/92
Route Description:
This takes the large right angled corner, right of the main pillar. The corner is gained by awkward moves up the parallel cracks. Start is often guarded by brambles/briars. The trade route of the crag!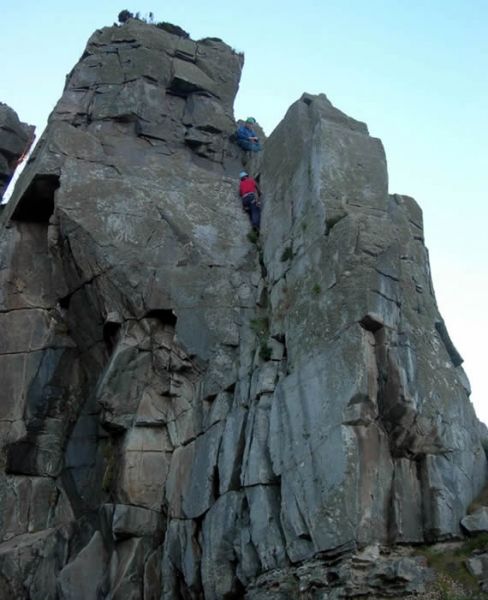 Broadbinn's Emporium - Bramble needs a trim again!

Comments
George B - 17/05/2021
Loved this climb! Tricky start up the parallel cracks which I agree makes it HS. The rest is solid S with lots of protection and solid footholds.
Alan Tees 4/11/08 - 04/11/2008
Grades are very much "in the eye of the beholder", so if its only one out, I wouldnt worry too much! Stimulates discussion!
Damien McCanny - 02/10/2008
On talking to my second, he reckoned it was tight for a severe so...maybe HS isn't wide of the mark. anyhow the grade's not a kick in the nuts off so i wouldn't worry too much. I was really looking for someone to say - "Hell yeah that should be a HVS" or something like that and make me feel loads better about myself after such a long layoff!
Chris McDaid - 01/10/2008
Pete, did this at Climbfest 07. Definetely Severe, a tad overgraded at HS. Cheers
Pete Smith - 28/09/2008
I think it was upgraded to HS because so many people found the parallel cracks at the bottom a bit tougher than severe. It would be good to have more opinions.
Damien McCanny - 26/09/2008
been outta the game for a while but just done this route during the week. Great route in good condition watch out for loose rock at the very start of the route. Is this really a HS? i'd put it at a solid S but, maybe I am outta the game to long