Editor: Eglish - Glenbrittle Wall

What would you like to do today?

<
Crag Profile: Eglish - Glenbrittle Wall
Details of the crag can be reviewed below. Editing links are present on all routes and inter-route notes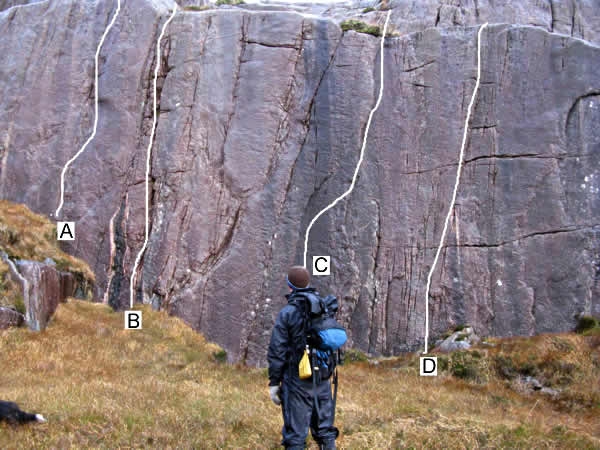 Glenbrittle Wall, Eglish. - A Chap Called Norman.
B Glenbrittle Cracks.
C Sensitive Crimes.
D Karma.
Directions: See Guide
OS Grid Reference: G945888
Click here to view location in Google Maps
- Pyrotechgnits (1 RP)
E3 6a
Length: 11m
D.Millar & M.McGinty May 2003
This climbs the next line of weakness between
Sensitive Crimes
and
Karma
. Start on the wall right of the sloping ramp of
Sensitive Crimes
on small holds. Make sustained moves to a reasonable rest (F0.25). Climb the broken cracks above to a flared crack(R8). Climb flared crack to top.
View Route
Edit Route
Upload a new photo for this route
1 - Glenbrittle Cracks
* *
VS 4c
Length: 10m
A Tees, P Smith (13/11/99)
On the lower, steeper wall,of two situated between the Ceasefire Wall and Teardrop Wall, this route takes the most obvious set of cracks at the left-hand side of the highest part of the wall. Good sustained climbing, but can be wet.
View Route
Edit Route
Upload a new photo for this route
2 - A Chap Called Norman
*
E2 5b
Length: 9m
A Millar R Moore (14/5/00)
3 - Sensitive Crimes
*
E2 5c
Length: 11m
A Millar, S Hamilton (4/5/00)
Climbs the two vague lines of weakness right of Glenbrittle Cracks. Start delicately rightwards along obvious weakness for the feet, then up past a surprising hold to a thin stance (and good gear in discontinuous left crack). Using holds in the left crack place a good double zero quadcam high in the right weakness or awkwardly place a poorish 2 friend high in the left. Commit yourself entirely to the right weakness and from a good starting hold climb it direct (crux) to good break a meter below the top. Move up, not without difficulty, to finish.
View Route
Edit Route
Upload a new photo for this route
5 - Karma
* *
E1 5b
Length: 11m
S Hamilton, A Millar (4/5/00)