Ex Eagle /Big Trip /Island life
Location: Gola - Gripple Wall
Grade: VS 4c
Length: No length recorded
First ascent: A.Tees, B. Johnston 17 June '95 S.MacGearailt, T.O'Brien 2 Sept '95J. Mc cann, P. Roach, 2June 96
Route Description:
This climbs the centre of the next wall. Start at the middle of the ledge, which runs along the base of the wall. Good VS climbing with a sustained start up some jamming cracks to a shallow fluted groove splitting an overlap at 6m. Easier climbing up the groove in the middle of the face to finish.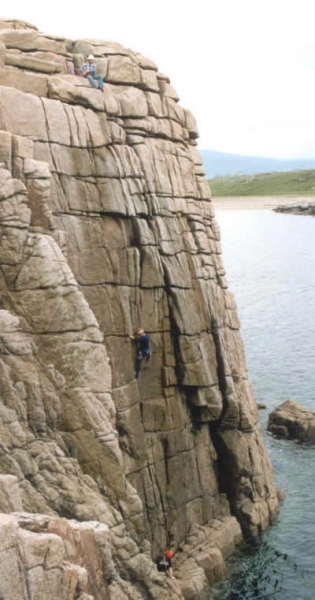 Gola, Co. Donegal - Looks like Frankie McCloskey at the top. The route might be Ex Eagle VS 4c (but a bit tough at the grade).

Comments
Peter Cooper - 17/07/2011
Good comments, keep them coming. Gola's a big job for the guide and we need as many comments on lesser-known lines.
Kevin Kilroy - 14/07/2011
Big Trip is good at VS and worthy of a star.
George C - 04/05/2010
Seconded the line being climbed in the picture(Ex Eagle) on sunday, a good VS line with a good crux move about half way up. I led the VS line a couple of meters to the right(big Trip), again a good route but slightly easier. both lines had good protection