The Wurlitzer *
Location: Culdaff - Dunmore Head
Grade: E2 6a
Length: 10m
First ascent: P Dunlop, R Dunlop (Spring 1991)
Route Description:
The big roof at the back of the alcove left of Calamity Collins. Climb up the slab to roof, move out to a hovering block left of the roof crack (takes F1.5 + F2). Move excitingly up to a waltzing block on the lip, and up into a position of contemplation above the roof. Continue to the top passing various holds on the way.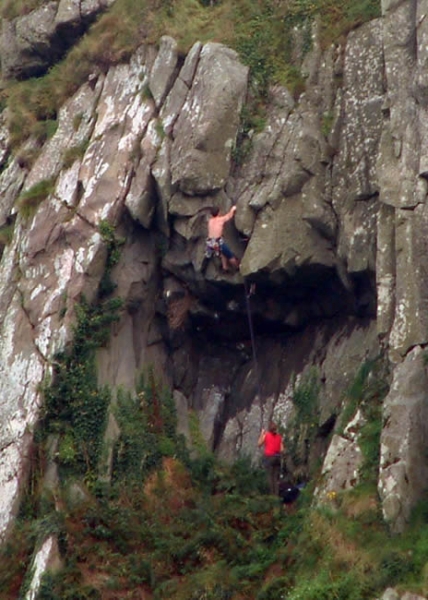 Rodders and Jules - Dunmore Head Culdaff Donegal

Comments
rodders - 09/05/2011
Grade spot on and worth 1 star but not 2 in my oppinion relative to other routes.
niall grimes - 08/05/2011
deffo worth at least a star
Peter Cooper - 24/04/2011
Good work Kevin. Everybody should do a wee bit each time they're at the crag as we don't get the traffic that other places do (walk/climb ice very handy for this work). More comments re grade and stars folks
Kevin kilroy - 16/04/2011
Now clean as of this morning! It took flippin ages! And my eyes are now streaming with the muck coming back for avengence. I heard today some folk had to lower off gear instead of topping out things had got so overgrown. No such excuses now. Do the crux and you'll have gloriously featured dolerite to relax up as opposed to furry vine climbing. Gave it a lead this afternoon to check it was worth the effort. It was! Three stars. The e2 to do this climbfest! Grade is spot on and good value.