Ten CC * *
Location: Culdaff - Dunmore Head
Grade: E1 5b
Length: 15m
First ascent: P Dunlop, R Dunlop (23/8/87)
Route Description:
Excellent varied climbing with an exposed finish. Start in short corner about 1m right of Calamity Collins. Thrutch up this to the small overhang. Move round left here to the thin crack in the wall, which is climbed with the aid of thin flakes and without the aid of Calamity Collins. Finish using the crack and arete to the top, with space being the most obvious thing between your legs!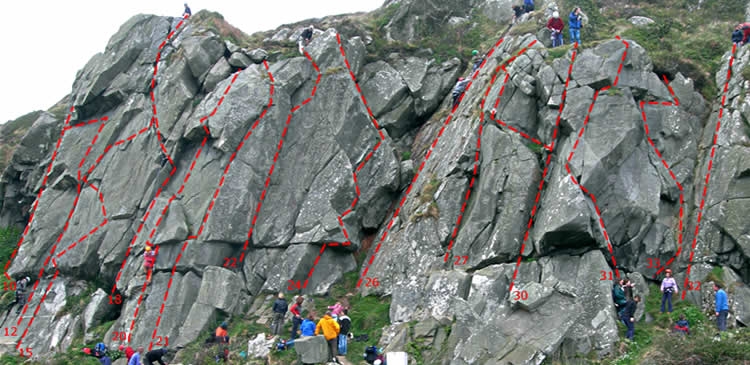 Dunmore Head (Main Crag) Topo - See Online Climbing Guide. A Marker is Route 26 (SRS Slab - V Diff)

Comments
Kevin Kilroy - 02/10/2011
Have to say I didn't enjoy this route. We didn't have the guide and after the Calamity Collins mix up some months ago I thought I new where roughly to start. The lower groove/crack thing is ok but the natural way to go is right instead of left at the top of the groove. This may have been my mistake. The rest of the route felt like making things extremely awkward for yourself. The top arete might have felt more interesting if you did't place gear in CC or PeaBob. But I did, and why not, you can flippin touch it from that face?! Rant over. I think this is a squeeze job and a half. Zero stars in my book, that is if I remember to pack it!
Rodders - 10/09/2009
Did it since again and reckon E1 5b is right. Brilliant route.
rodders - 14/04/2009
Fair play lads yous are leading the way.Respect.Just me then thinks it needs upgrading then... hmm better stick to the bouldering :)
Rodders - 13/04/2009
I did this again yesterday for the 1st time in a few years. Super route but I'm going to stick my neck out and say its E2 5b or maybe even E2 5c or maybe I'm just getting old! Physically its pretty sustained for the grade and the gear is pretty marginal on the upper face, if you're not too pumped to place it that is! Apparantly soloed by raymond (and likely paul too)dunlop which blows my mind! Top route!
Michael Hassan - 13/04/2009
Nice route this. Difficult move at the start into the crack, but I felt more at ease after that and loved the technical climbing on the face, even if your last bit of (dodgy) gear is well below you by that stage.
George Carleton - 13/04/2009
Led this again on Saturday. Its a realy good route. Like Mike i particularily enjoyed the climbing after the crack.
Rodders - 10/04/2006
Best route of the crag i'd say! and must do.
strenuous finger locking leads to a tricky move up on to the main face followed by an exposed and boldish finish.
The climbing gets easier as the route goes on, though is doesn't feel it as you climb away from your suspect little wires and friends and the lactic acid accumulates in your forearms!
no cheating though like that young scallywag rodders in the photo!