Thank You and Goodbye * *
Location: Culdaff - Dunmore Head
Grade: E3 6a
Length: 18m
First ascent: N Grimes, B Dunlop, J Hutton (79/10/90)
Route Description:
Bold then strenuous climbing up the slab and overhang right of Fluid Inclusion's finish. Start as for Wall Rock Alterations. Pull up onto the slab on left, over first small roof (F7.5 on the left here). Climb boldly and directly up through the two overlaps to below the big overhang (Big friends); climb it to a tiny groove. Finish up this. With a move somewhat akin to riding a donkey, this is an excellent eliminate.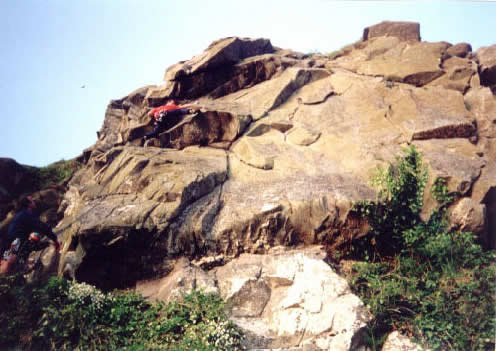 Paul Dunlop at Dunmore Head - Paul leading Thank you and Goodbye E3 6a. Hard to see in this photo, but his head is shaved - a rare sight.

Comments
niall grimes - 09/05/2011
agree with 2 stars. enough climbing to make it very enjoyable but lacks line maybe?
Kevin Kilroy - 30/04/2011
Cleaned yesterday (29th April 2011) Was covered in a very thick and fury layer of the furry disease. Would have been a horrible proposition without a good brushing. Despite this it still required a lot of sweeping on the lead. Grade feels steady as is and the boldness is very much unavoidable but in managable quantities. The available gear is excellent. The hard climbing is all above it however. An absolutely stunning eliminite. Three stars (minus one as its eliminate).