Wall Rock Alterations * * *
Location: Culdaff - Dunmore Head
Grade: E1 5b
Length: 20m
First ascent: A Millar, G Millar (9/86)
Route Description:
Offering delicate and open climbing with an exposed feel. Start at the little groove left of Shining Cossacks , climb up the groove to a bulge and excellent protection. Step up left here onto the slab and move daintily away from the protection. Go leftwards as far as the final groove of Fluid Inclusions (big friends). Finish up Fluid Inclusions. This route, along with the previous two, unfortunately suffers from hairy growth in parts.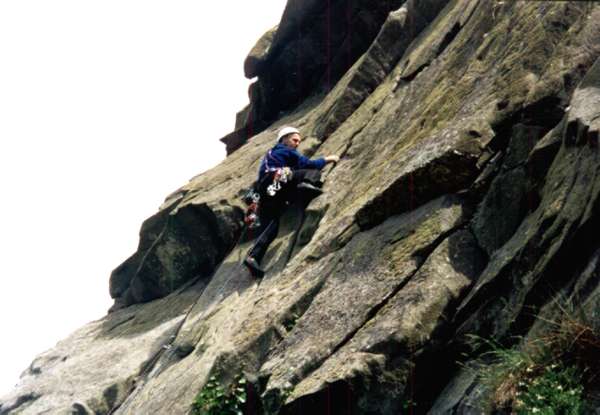 Frazier on Wall Rock Alterations - E-man Jason Frazier enjoying The Al Millar Classic Wall Rock Alterations E1 5b at Culdaff

Comments
rodders - 09/05/2011
A bit green these days but one of the best routes at the crag for sure. At least 2 stars.