Grecian Gift * *
Location: Culdaff - Dunmore Head
Grade: VS 4c
Length: 15m
First ascent: J Rotherham, B McDermott
Route Description:
2m right of Tina's Crack and to the left of the detached block is a steep right-ward trending crackline with great moves and stretchy finish.
The arete to the right has been soloed by 'the Dunlops' at about E5 6b.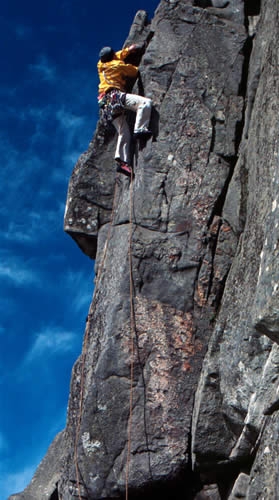 Grecian Gift, Dunowen - Dave Millar on Grecian Gift, VS at Dunowen, Summer 2004.

Comments
Peter Cooper - 13/07/2012
Doea anybody know who took this photo? Not bad to say the least!
rodders - 09/05/2011
Brilliant route. At least 2 stars. The arete has only been done by paul I believe.
Kevin Kilroy - 26/03/2011
Great ** route, grade spot on.
Chris McDaid - 06/05/2008
Good route, grade ok