Belfast Blitz Boys
Location: Culdaff - Dunmore Head
Grade: VD -
Length: 13m
First ascent: P Grant
Route Description:
Starts in a bottomless V-shaped chimney about 1 m right of S.R.S. Slab and goes up the edge at the top.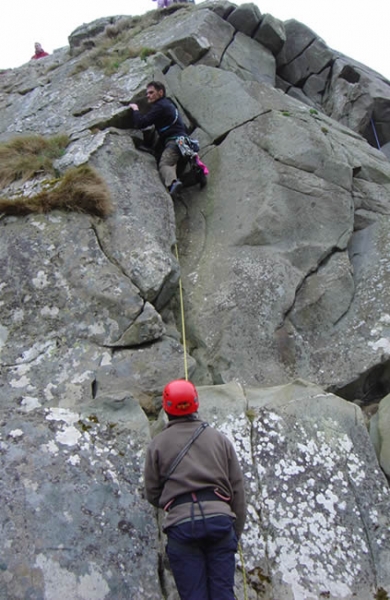 JJ on Belfast Blitz Boys at Dunmore Head - Dunmore Head, Culdaff, Donegal. Climbfest 2006. JJ (is that how you spell it?) leads his first route in five years and finds that the old swagger hasn't deserted him.

Comments
Alfie Conn - 20/06/2012
Should we only be debating the grades of harder routes that fewer people have done or will ever do?
PeterC - 20/06/2012
Its a nice wee line, I've done it plenty of times so it must have something going for it. I wouldn't get bogged down with the one route when there's so many to go at at Dunmore. If anyone would like a copy of a small topo I did for last year's Climbfest of Finbarr Wall, I'm sending it onto Pete Smith; so it can be a download. It was done as a, very, rough sample of the forthcoming guide. I repeat very rough!
Alfie Conn - 19/06/2012
I admit to struggling on this route the first time but I really, with the benefit of more time at Culdaff, think VD is actually correct
PeterC - 19/06/2012
Just for note the arete to the right of BBB is a thin bouldery and short VS: Tetley Mild.
Dave Brown - 17 June 2012 - 19/06/2012
First outing yesterday @ Culdaff - Completed lead on SRS Slab followed by a 2nd on this route - Have to admit that VD is not the grading I would give - May I suggest HVD! - After compelting the 2nd, I decided against the lead and moved on to Absent Friends (just to the right) and led on sight - This is also graded as VD and I believe to be correct :-)
keith Monaghan - 11/04/2010
VVDiff easiest at grade on crag
Pete - 29/03/2009
Pah! VV Diff, but not VS. Is it a while since you've been off the colour-coded holds, or what?
Damien McCanny - 25/03/2009
Climbed this route last thursday and, in no way is it a VDiff, total sandbag at that grade. Up to the point where (see JJ above) you move out onto the arrete is VS material. Too run out to be a VDiff with footwork/gradient and moves that match that of VS so that's my grade. Beginners beware!