Dont Touch That Tree
Location: Happy Valli Crag
Grade: E1 5b
Length: 25m
First ascent: G.Thomas, Sandra Kennedy, V.Schaffer, 2/09/06
Route Description:
Takes the spectacular crack line to the left of Colmcille Corner. Crux is mid height. Superb route.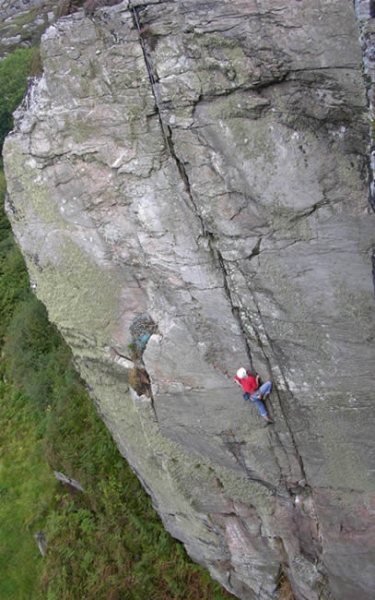 Don't Touch That Tree! - Sandra Kennedy climbs this new route, which was led by Geoff Thomas (E1 5b) at Happy Valli Crag.

Comments
Dave - 27/10/2009
I would say the grade to new finish is about E1 5b/c.
Peter Cooper - 29/09/2009
Oh well, not really in shape to climb the finish that I cleaned last year. Dave did let me know he'd also spotted this finish too. What's the grade?
Dave Millar - 21/09/2009
New alternative finish to the route. Climb the crack to 2/3rds height then traverse rightwards to small roof below top wall and gear. Climb centre of wall on great holds to the top.
George Carleton - 21/09/2009
seconded Dave on this at the weekend, a good alternative finish with a few bold moves to get under the small roof, but with good holds above.
valli - 18/04/2009
the ravens just hatched, please dont climb in this part of the crag.
Dave Millar - 28/04/2008
Very nice climb and line. Sustained climbing but gear there. 3*star route in my opinion. Nice one Geoff.
George Carleton - 01/10/2007
Struggled up this climb on Saturday the 29/09/07. A very pumpy top end E1. A great line.
Paul Harrington - 23/07/2007
Climbed this on 21/7/07. Excellent route. While the moves are not that difficult, gear is a little fiddly and the hanging around placing it gives the route a very sustained feel. Definitely not E1 IMO. I'd put it at E2.