Rhiannon
Location: Happy Valli Crag
Grade: E2 5b
Length: 20m
First ascent: Chris McDaid & Martin Daly 9/6/07
Route Description:
This route supercedes the original "Oxtail". Starts 3m left of the isolated boulder. Climb direct to the horizontal break (small cams), then technical and precarious climbing leads up the wall (RP's) through a "corridor", after which the angle relents. The technical climbing ends here, although its worthwhile to continue to the top of the crag via a dense heather ledge and a pleasant short wall of pink granite. Climbed onsight, ground up, no pre inspection or cleaning carried out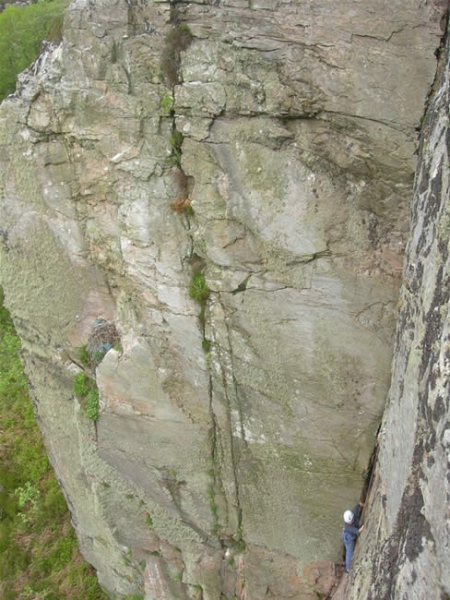 Happy Valli Crag - Any takers for the crackline behind Aine?

Comments
Alan Tees - 24/03/2009
Not sure what this photo is doing here. Chris I am a bit confused here. This line is the original "Oxtail problem", but on the main topo, the line seems to show it as Erratic Bilco.