Raven
Location: Happy Valli Crag
Grade: HS 4b
Length: 25m
First ascent: Martin McGuigan, Alan Tees & Valli Schaffer 26/01/08
Route Description:
Start below and right of the left facing corner leading to the large nest on the wall left of "Colmcille Corner". Climb from the lowest point, up and left into the corner, avoiding the nest as best you can. Continue up (airily) on good holds, left of the line of "Dont Touch That Tree" seaching desperately for protection, to the top.This route should only be attempted outside the nesting season, lest ye bring the wrath of the environmental officer (and a very cross raven) down on your head!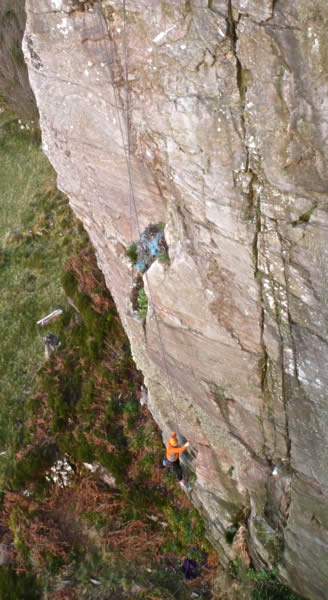 Raven (Lunatic!) - Marty's new climb at Happy Valli. Amazingly unclimbed despite being an obvious line. Marty calls all his routes after birds. "Jammy Bustard" would be more apt! Hope his hangover isnt any better!

Comments
georgec - 19/07/2021
Some loose rock lower down and could do with a good clean.
Martin Mc Guigan - 21/02/2008
George led and I seconded this route the day after Vallie's party. George agreed it was HS and I discovered that it is not a good idea to climb with a hangover.