Hellburner
Location: Happy Valli Crag
Grade: HVS 5a
Length: 20m
First ascent: M.Daly & C.McDaid 23/7/08
Route Description:
Just left of Rhiannon, there is a right facing groove/corner. Climb this direct, through the bulge to a spacious ledge. Finish up via heather clad ledges. Very well protected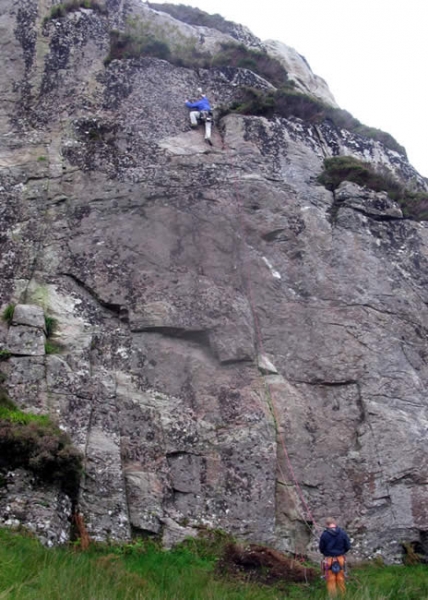 Hellburner - Happy Valli

Comments
George Carleton - 20/06/2011
Climbed this route again at the weekend, still felt have for HVS, agree with Peters comments not the route to push your grade on.
George Carleton - 20/09/2009
A great route worthy a couple of stars. Felt hard for the grade though, and i thought the gear was adequate but not plentiful.
Dave Millar - 06/10/2008
Climbed this route back in August, nice sustained climbing on middle section, gear also felt gud. HVS 5a felt about right and worthy of 2 stars possibly.
Chris McDaid - 24/09/2008
Theres no 5b move on this route, and theres bomber gear exactly where needed. The thanx should be to Martin Daly. Cheers
Peter Cooper - 22/09/2008
Found this route a tough proposition for the grade (took 2 rests on the rope: it could be age or general decrepitude), I felt this was more like E1 5b and would urge caution regards protection comment; especially if your'e looking to push your grade to HVS. More comments on this one required to get a consensus. Never the less a good line for the crag, nice one Chris.
Chris McDaid - 17/08/2008
Definitely worthy of a star or 2
Chris McDaid - 28/07/2008
FA M.Daly & C.McDaid