Ox-Tail (Vdiffmearse)
Location: Happy Valli Crag
Grade: S
Length: 8m
First ascent: Alan Tees, Valli Schaffer, Martin Boner, 17/08.08
Route Description:
V.Diff my A*** said Valli! The obvious big crack at the right end of the crag. Finish off at the top of the big flake, or continue up the slabs to the top (the first moves off the flake are considerably harder than V.Diff, particularly in the wet).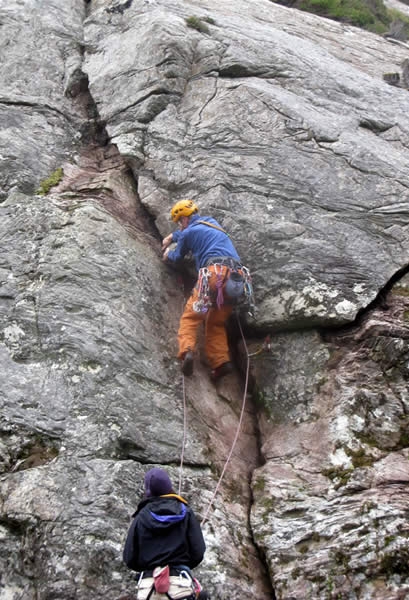 Oxtail (vdiffmearse) - Last and shortest route on the main wall of Happy Valli!

Comments
IM - 19/08/2011
Sir, I'll see your S 4a & raise you S 4a/b. Found the moves up the slab as hard as the crux of Colmcille Corner, & it was dry. :-(
Anthony Feeney - 16/08/2011
I think if you're laying back then it's not V Diff. No beginner to the sport could be expected to handle that. I'd be happy with S 4a if I could find that left pull onto the dome.
Alan - 24/06/2011
Mostly on rock to the top now, and there is a big side pull jug out on the left, which helps the nasty move off the flake. OK mebbe a 4b v diff!
Anthony Feeney - 21/06/2011
A bugger of a route! The layback at the start is lovely and severe-ish but moving onto the the dimpled, unprotected dome above was a scary task of top end VS. This is followed by 2 frustrating heather bands that cling perilously to the rock. I wouldn't be in a hurry to repeat it.