Call me Ishmael
Location: Owey Island (East)
Grade: E1 5b
Length: 30m
First ascent: P.Cooper & V. Schafer 24/08/08
Route Description:
Approximately 3 minutes north of the twin sea stacks that run parallel to the coast. On the north side of (?) bay/zawn is an obvious clean cut rightward-trending steep crack which leads up to a corner and an overhang, the crack continues through this. A good seated belay position is at the top, just under a handy belay block.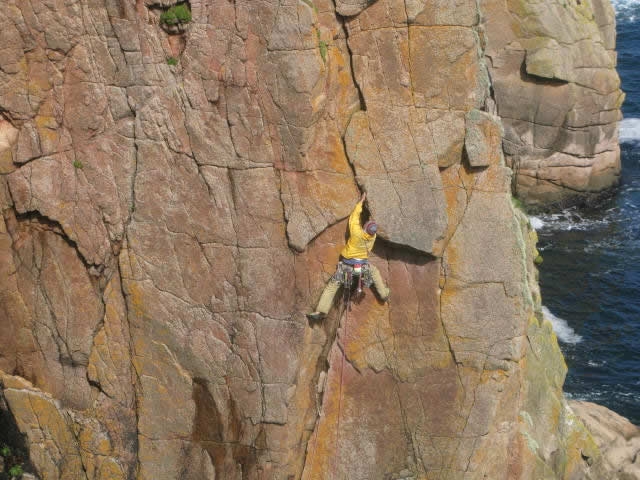 Dave Millar gets the 2nd ascent of 'Call me Ishmael', Owey

Comments
georgec - 23/06/2019
A compelling, well protected line and fairly amenable if you are a competent hand jammer.
PC - 10/10/2008
Hi Damien, the phot doesn't show the whole of the line but I'd say it shows the 2nd crux fine. Let us know how it goes it your'e up for the 3rd ascent and what you think of the line and its grade?
Damien McCanny - 02/10/2008
Looks like a nice route alright - would I be right in thinking the climber in the pic is at the crux???
PC - 26/08/2008
Dave Millar and Geoff Thomas got the 2nd ascent of this on 25/08/08. Dave made it look like a VS but confirmed the grade. Both felt that the climb warrants 2 stars. I certainly won't argue with that, it's a great line nonetheless.