Bird's nest bulge *
Location: Culdaff - Dunmore Head
Grade: S 4a
Length: 12m
First ascent: B.McDermott,B.Patton
Route Description:
Start part way up Bluebelle to climb cracks in bulging wall on left, follow these to gain vertical finishing crack in headwall above. Some superb moves for grade.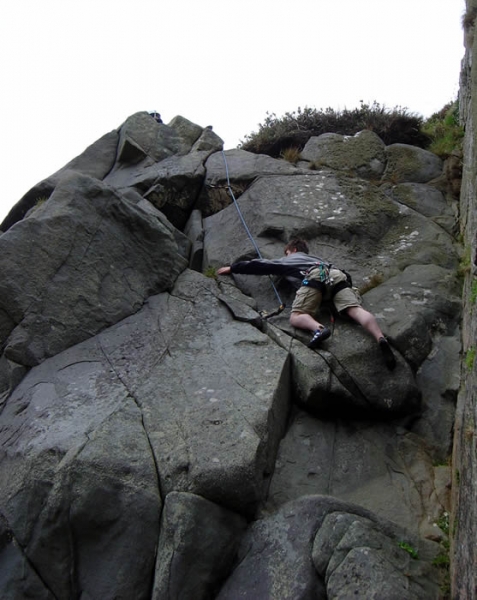 Bird's Nest Bulge - Unknown climber on Bird's Nest Bulge at the Climbfest 2006. Dunmore Head, Culdaff, Donegal.

Comments
Peter cooper - 23/07/2012
Yep, I'd say more than 4a. It has really good moves but they're no push over. It's a good route.
Alfie Conn - 22/07/2012
A 4b move to get off the ground if you are vertically challenged but beside good gear. The rest nice with interest but jugs at the top. Agree with s 4a if of average height
Peter Cooper - 29/09/2011
Start just to the right, almost in the corner. Really nice moves - obviously I'm a fan of this little line.
Pete - 27/09/2011
Just getting old I expect.
Anthony Feeney - 25/09/2011
Maybe I started this too directly but it definitely felt harder than Severe. Very off balance in the middle and a little pumpy. My second got shouted at as I tried to clip and I'm not normally that panicked on a Severe!
Peter Cooper - 06/05/2011
It is a really nice route, good moves low down and then a fairly airy top out. Can't comment myself as I only ever used to solo it and not been on it in a few years now. Did listen to comments at Climbfest. More comments please?
Paul Hutchinson - 05/05/2011
I'm no grading expert, but I'd call this harder than a Severe. I'm fine with Orange Blossom (HS), but I've found this route to be a struggle on each occasion I've had a go at it...
Peter Cooper - 29/04/2008
there's also a direct finish over the top at approx 5b, did this while following Pete Smith's lead summer 03
Peter Cooper - 26/08/2002
After 3yrs of visiting crag finally did this one, its a lovely line definitely worth its star, RECOMMENDED.