The Hustler *
Location: Culdaff - Dunowen (Brazil Rock)
Grade: HS 4b
Length: 15m
First ascent: V. Russell, H. Boyle, R. Dougherty 8/11/92
Route Description:
Climb the corner to a ledge, follow the cracks in the wall to another ledge; surmount the corner and overhang to finish. Technical.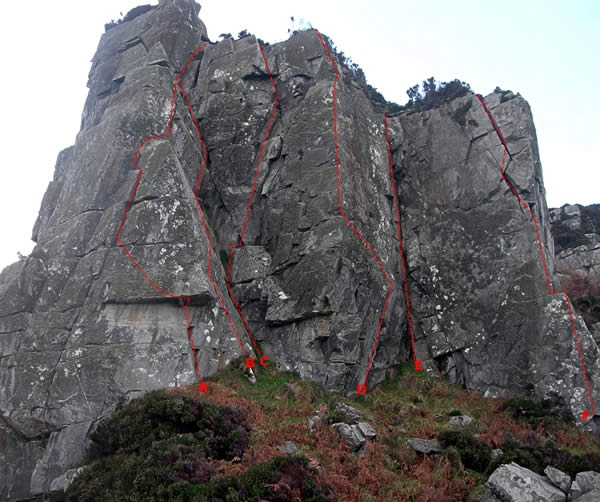 Brazil Rock, Culdaff, Donegal - A Apex HVS 5a
B Bunagee Bluegrass Boys VD
C The Hustler HS 4b
D Moonstruck HVS 4c
E Cap Gun Corner Sev 4a
F Expertise HS 4b


Comments
George B - 07/06/2021
Great route with 2 Crux\'s in the space of 5 meters. Rock is solid with added shrubbery to cement the challenge.
kevin kilroy - 01/05/2016
Beaut of a route. Rock is a bit hollow in places but its still there today. Top end HS alright! Worthy of a star or two for sure.
Rodders - 07/05/2011
Yeah this is a really nice route. I haven't climbed it in a while but I agree with Emma. This route feels bottom end - sold VS compared to some other routes in the Culdaff area. At least 1 star.
Emma Clarke - 02/05/2011
Great route! felt difficult. it's very technical for the grade. I would say it could be VS. Felt harder than some VS's i've climbed.
David Brosnan - 02/05/2006
Loved this route! Great for a HS... I went straight upto the jug at the top of the overhang (as in the picture, but straight instead of trending left). Brilliant, steep finish with good gear.