Diversion * *
Location: Culdaff - Dunmore Head
Grade: HS 4b
Length: 20m
First ascent: J Rotherham, M Patton
Route Description:
Start: 1m right of the overhanging V groove is bottomless chimney. Climb bottomless chimney to gain ledge and, at mid height, continue out leftwards following crack on fine jug handles past nest to finish.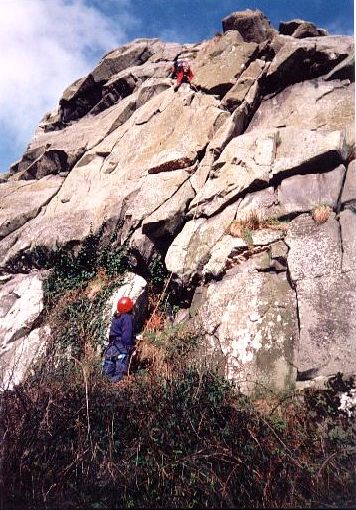 Diversion, Culdaff - Looks like Pete Smith on Diversion HS at Dunmore Head, Culdaff, Donegal.

Comments
alantees - 01/11/2020
Frequently climbed using the start of Grecian Gift, grade drops to Severe.
Alfie Conn - 28/07/2012
Should we have "green fuzz grades" eg HS but the gfg is E4. Not a serious idea in case anyone thought I had completely lost the plot.
Emma Clarke - 26/03/2011
Definitely worth 2 stars, grade dead on at HS.
Chris McDaid - 06/05/2008
Good natural line, grade bang on. Wouldn't bother with alternatives
Rodney Moore - 11/11/2005
Better than Orange Blossom!
Peter Cooper - 30/08/2002
Alternative options to this route: 1. Step across gap from boulder, below Orange Blossom, to gain end of broad ledge by pulling up nose. Gives an overall grade of V.Diff, this is probably more in keeping with the rest of this climb;which is a lovely line. 2. Finishing further out left to normal finish by stepping round small arete to the corner and footledge, to a slabby short face which gives exposed finish. With the normal start this is about VS.