Absent Friends Five *
Location: Culdaff - Dunmore Head
Grade: HS 4b
Length: 15m
First ascent: B Patton, P Grant
Route Description:
In a small corner/recess above and right warm-up boulder and left of Bluebelle. Climb up to horizontal crack, then left go left to crack by arete. High stretch for thank God hold, follow edge to top.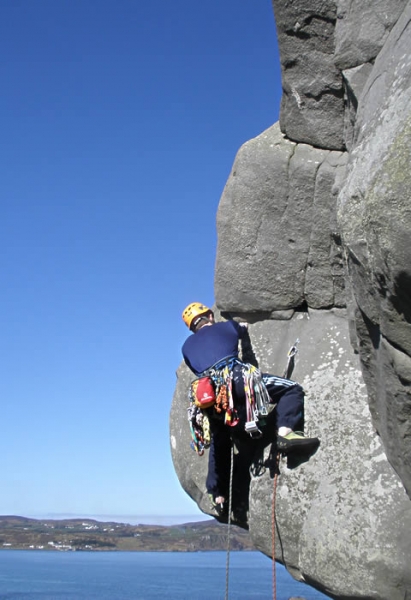 Absent Friends 'Five' - Sweet little Route

Comments
Peter Reid - 09/05/2011
Excellent little Route, Easy HS.. Deffinately a star or two
Kevin Kilroy - 26/03/2011
Brilliant moves for the grade. Worthy of at least a star if not two. The rock is as clean and solid as it comes. HS is dead on.
Peter Cooper - 28/01/2010
For extra extra fun. Start on the boulder below the crag, step across gap, traverse right then around nose and up. Never done it roped, so don't know what rope-work would be like. Don't think I'll be able to solo this height again though.
Niall Browne - 10/12/2009
For extra fun, start at the base of the arete and go straight up to the slab. Bonus moves!
Pete Smith - 11/03/2008
I'll second it for a star. A warning must accompany the star though. It's a tough route for a short person.
Peter Cooper - 10/03/2008
I love the moves on this route and have seen plenty folks struggle with it. Why no stars, may I suggest 1?
Kevin Kilroy - 20/02/2008
After having spent the last 7months climbing in England/Wales...I'd say their grades over here are overgraded compared to back home (DL). Orange Blossom might even get VS and ANorexia on the left would get HVS or E1. Either that, or I need more practice on home rock! :P
Pete Smith - 28/04/2005
Used to be severe. See what you think!