Tweeter and the Monkey man. *
Location: Culdaff (Dunmore) Finbarr Wall
Grade: HS 4b
Length: 12m
First ascent: Alan Tees & Peter McConnell 1/07/07
Route Description:
At the left end of Finbarr Wall is a pillar with a block at the top, just left of a big nest. Start just under, and climb a faint arete slightly rightwards, to reach a steep cracked wall. Exit via a mantleshelve onto the block at the top. Far better than looks suggest.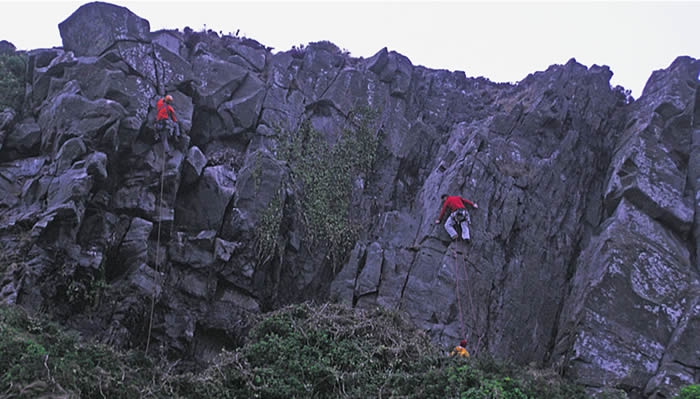 One evening at Finbar Wall, Culdaff - Alan cleans a new route, left. Peter Cooper and Dave millar on un-named, on-sighted, steep line...still to be submitted. May 2007

Comments
alantees - 23/10/2020
Lower half of the route is now overgrown and the upper half has a big nest on it. Forget it!
PC - 06/12/2008
The line being climbed on the right is 'Grunting 'n' Slapping'