Rhumdoodle
Location: Culdaff - Dunowen (Pinnacle Bay)
Grade: S 4a
Length: 30m
First ascent: Alan Tees, Bill Magowan 19/03/2000
Route Description:
This starts up the prominent arete that forms the "Bend" at the left hand end of the Himalayas cliff. Pull up over blocky spike to slab, and move up left of arete to gain ramp. Delicate moves at the top of the ramp leadr to easier climbing rightward to cleaned ledge. From far side of ledge step out right onto exposed slab and continue to the top, exiting off a sharp edge at the top of Fulmar.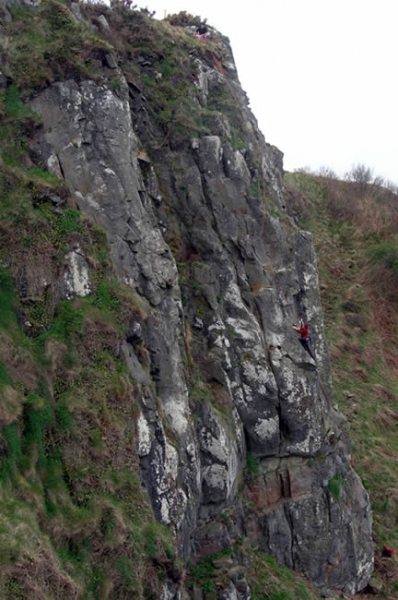 Rhumdoodle - At the Climbfest.

Comments
alantees - 17/10/2020
Popular opinion has it that this should maybe be HS 4b. Top end 4a anyway, due to a necky move about half way up
alantees - 15/10/2020
Rhumdoodle cleaned 14/10/20. For the top bit step onto Carthage to the big grass ledge.
Peter Cooper - 24/10/2007
Alan kindly led me up this, from below it looks a dreadful piece of rubbish and the above description would also make me think this. However this is a great climb, reminiscent of climbing in in the Lake District or Tremadog; this is probably a ** climb!
David Brosnan - 02/05/2006
Brilliant severe.. One of the best I've climbed.