Rebel Yell *
Location: Malin Head (The cauldron)
Grade: HS 4b
Length: 70m
First ascent: Alfie Conn and Trevor Hartley (Alt lead) 3/7/2011
Route Description:
Abseil down Stelfox Slab (See Malin Laundry) from the large individual pinacle (45m) to the large platform on its Eastern edge. There is a large curving corner on the Eastern side of the slab1.40m 4b Climb the corner until a few metres below the capping overhang. Traverse right to belay on "Dawsons Diedre" just below its final chimney2. 30m 4b Traverse left below the overhang and turn it on the left side. Then ascend the slabs above getting quite loose near the top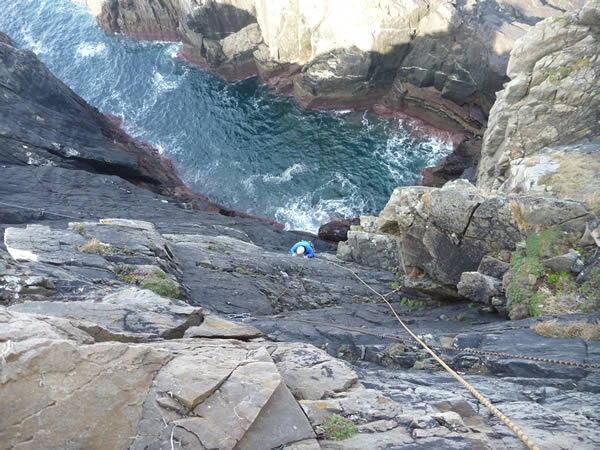 Rebel Yell, the Cauldron, Malin - Marty seconds the top pitch.

Comments
alantees - 01/10/2023
Did it again today with Margaret Q. First pitch a bit thin higher up. The overlap is climbed by a corner, with a committing blind move left. Did the corner above this time, which would be much better if loose rock removed. The last moves were horrible, 4b is about right technically, but it scarier than most 4bs.
Alan Tees - 26/03/2012
Did Dawson's Diedre to the corner, then up onto the slab. That move is not hard, but probably 4b is right, although its well protected. Slab above is not nice to lead. Maybe the corner on the left would be better if cleaned out a bit.
Alfie Conn - 04/07/2011
I meant at the end of pitch 1 to belay below the final CORNER (and not chimney) of "Dawsons Diedre"
Alfie Conn - 03/07/2011
The first pitch is excellent and the turning of the overhang on pitch two is also excellent. The rock on the final slab is not!. You could obviously finish up Dawsons Diedre instead and so reduce the quantity of gravel you send seawards