Voluntary Euthenasia
Location: Malin Head (The cauldron)
Grade: D -
Length: 65m
First ascent: Alfie Conn and Trevor Hartley 12/10/2013
Route Description:
From the extreme left end of the platform descend to sea level and a small wave washed platform. Take the small overhanging crack and follow it to where the crack constricts (Belay)Follow it to where it and protection runs out. Just before this you can go straight up on steeper rock and ultimately grass (The Swiss Alternative VD)The original route carries on by pulling on grass and some dubious rock bits. Take a firm stance belay as far back as your rope allows.This is really a scramble with a seriousness grade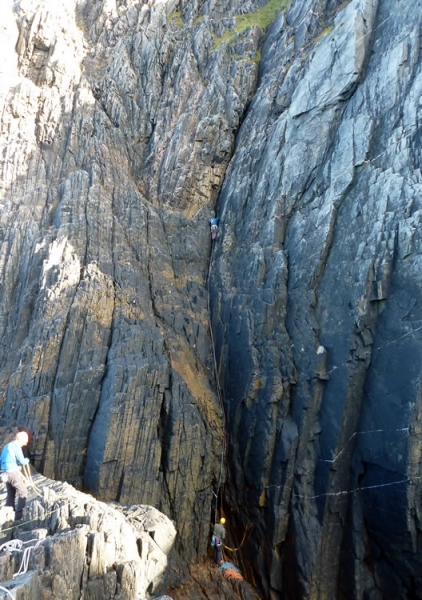 Voluntary Euthanasia - On The Cauldron, Malin, Alfie and Trevor

Comments
alantees - 19/07/2023
I think the 65m is the lower down start, which is very wet at present
George B - 19/07/2023
Led this with A.Tees. The start is nice, protected and very 'steppy' but the trend right at the top of the gully brings you into something that is the opposite. Very little gear and when you do find it you wouldn't want to fall on it, lots of grassy ledges and loose rock. It is easy climbing but there are some anxious moments. V.Diff probably right but not for beginners. We did this comfortably with a 50 meter rope so not the advertised 65 meters.
alantees - 13/07/2023
Did a version of this today with Sean. Up the crack/corner, continue directly up right, onto a steep face which leads to the top. Much better protected than \'Headcase\'. Yes, V.Diff or maybe MS. This must be the Swiss alternative.