Albatross ** * *
Location: Cruit Island - Albatross Zawn
Grade: E1 5c
Length: 30m
First ascent: M Mc Guigan (200)
Route Description:
3m left of (Best Possible Taste H S ) Start at sea level and climb the corner right up to the roof. Undercut hand traverse out to a small nose of rock. Stand on this and hand jam back up the crack to another small recess. Easier climbing to the top.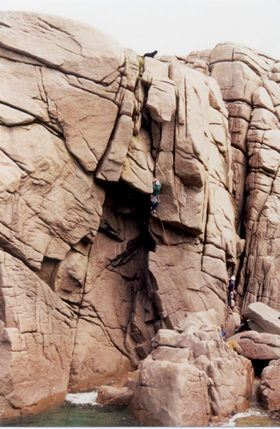 Albatross - Marty on the crux of Albatross with Mary belaying just behind the rock below.

Comments
pt811 - 16/05/2022
Excellent jams through the roof to the small ledge.
Peter Cooper - 05/09/2009
I've had a further comment from Iain regarding current grade and would welcome further comment. I haven't attempted this route, and currently can't-following a bit of a fall, but it certainly didn't look like HVS territory.
Dave Millar - 15/04/2008
Agree with Iain, felt harder than HVS. Also alternative start comin in from the right below the small roof to the right of the crack properat E1 or so.
Iain Miller - 14/04/2008
Excellentmoves though the roof and steep crack! BUT E1 5C is the order of the day! :-)