The Jetim Bel range is remote and little visited by outsiders, never mind climbers.  So remote are these areas that only the very highest peaks are named. Nomadic herders, tending horses, cattle and yaks are still the only people to be met. As we arrived in mid September the higher valleys had already been emptied and the lower yurts were being packed away.
We climbed four peaks in total with one probable first ascent and all First Irish Ascents.
The first base camp in the Naryn Valley at an altitude of about 2950m, was reached by the versatile Kamaz six wheel drive vehicles in about 6 hours from Bishkek. After an acclimatisation visit to the twin lakes at 3500m we were ready for our first ascent. During the night snow had fallen and the start felt like a Scottish winter. Soon the sun came out though and the climb to the romantically named Pt 4327 improved. This was a relatively simple peak, up snow to the col but the final shale slope was tiring after the 7km approach. By the time we returned to camp the sun had cleared most of the snow.
The next day we moved camp, driving some 50Km east to the confluence of Naryn and little Naryn rivers. In the afternoon we ascended Pt4069 to recce the next day. Pt 4343 was a slightly more technical Peak but easier to ascend (1300, F) once the snow was reached.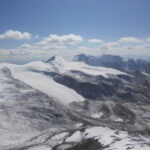 This area was visited by a French Party in 2004, but there were no records of them climbing this peak, nor was there a cairn.
Camp 3 was a further 10km east at a shade below 3000m. Again we ascended to a summit above camp (pt 4005) to spy the route opposite.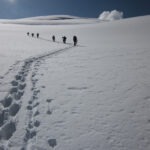 The final peak, Pt 4624, was almost entirely on snow but the recent fall made going a little difficult,  (900m PD-). The final summit ridge dropped away dramatically, making the summit rocks a challenge.
Summary: Within a few hours flight of Dublin is an extremely remote area with loads of potential for exploration. There is positively loads to do here without much technical difficulty or the need for extensive acclimatisation, meaning a trip can easily be fitted into annual leave.