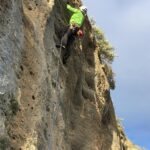 It's usual for the club to arrange a sport climbing trip to Spain in march or February but this year was a little different, for me at least. An old friend had returned from India after ten years and suggested a trip to the Costa Blanca even though he hadn't climbed for 12 or more years.
Straight off the plane we walked from our Altea apartment up to Toix Oueste and managed 3 routes before the sun went down. The next day we went to Guadalest where the weather was considerably warmer than last time I visited. Rob astounded with a lead of the very pumpy Margallo 6a+. We bumped into another friend that I hadn't seen since the 80s here who recommended Montesa so that's where we headed next and it did not dissappoint. The very best crag we visited with an amazingly rough, pockety limestone which we liked so much we came back a day or so later. Two of the best 5+ ever were the rockfax guide was a litel difficult to read here as they had opted for a very wide angle photo for the topo, making it difficult to read.
The following day it rained lightly most of the dsay so we declared a recovery day.
The next crag on the list was Sector New Year's Day in Sella, which Gerard O'Sullivan had suggested [thanks!]. This was another great crag with plenty of good holds although quite busy. Trying to avoid the crowds we were thoroughly sandbagged on Perlita.
Alacalali was the next stop. Here the sun was shining but the wind was approaching gale force when we arrived. As it dropped we were able to head up to the left hand end of the crag for some shelter. An excellent couple of 6as and some very steep 5s were our reward.
The final trip was a return to Montesa. There was no sun this time, but we met a German couple at the end of their year long road trip and we discovered they had a wicked sense of humour. We grabbed a couple of lines before the rain came and we retreated to the Cafe Aurora. Once more the Costa Blanca welcomed us as we avoided the beastly weather at home. Adios until next year.