Great weekend was had by all, despite the weather not living up to the high pressure expectations.
On Friday morning we met at the Yeats Tavern, that is Neil, Dennis, Damien, Andrew, Sarah, Columba, Martin B, Gertrude, Brian, Margaret and self, and we were joined for the day by Ivan, Valli, Anneka and 2 girls- Pam and another Margaret (when I say 'girls' you must understand that when you are my age,' girls' refers to any female not currently in a residential home)*. Martin Neil, Damien and Dennis took off for Pinnacle Gully, Brian, Gertrude and Margaret T for Lough Gill, whilst the rest of us made our way up Kings Gully to the opening of the fissure called Annach re Mor. (We were joined by Keith, who had just arrived by motorbike). All went to plan for a change, and we had just finished Annach re Mor as the Pinnacle party were starting. Some of our party then finished with the upper fissure at Altnasomething, a narrow passage with a step ladder exit.
*I forgot to mention that Eugene made a brief appearance in the car park.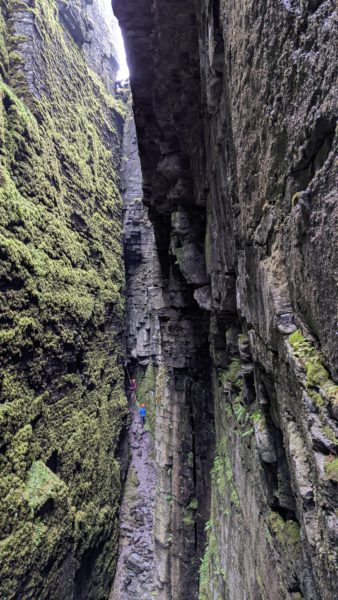 The Connemara National Park hostel was as comfortable as ever, although part of the common area was closed.  On Saturday morning the weekenders set off for Bencorrbeg, dropping Andrew off just outside Letterfrack.  A long rocky climb up into the mist took us, after a number of drop outs and false summits, eventually to Ben Corr, where we had hoped to meet up with Andrew.  Unfortunately, he had passed through over an hour before, having run over Knockbrack, Benbrack, Muckanaght, Benbaun, and Bencolladuff. We followed him to the top of Derryclare, then down the rocky and slippery east ridge.  When I got back to the hostel I heard that Damien, Andrew and Neil were already in the pub watching the Ulster game.  After 7 hours on the hill, sprinting was not an option, but I was able to manage a fast hobble to join them, and Damien, ever the gentleman, put a pint of stout in front of me. Such Bliss.  Ulster were out of sight when I went out to buy a newspaper.  When I came back there were only 3 points in it!
Great meal across the road, with first class trad music. Everyone celebrating the first lockdown free night out, and we finished off with a song or two in the hostel, thanks mainly to Sarah and Gertrude. Damien, who rumour has it can sing, had snuck aff to bed.
Sunday is normally a short leisurely walk followed by a longer less leisurely drive home, and this was no exception. The walk wasn't that leisurely up Diamond hill, but the path is excellent, and something similar would be appropriate for Errigal, I think.